Handwrite, a new way to search on Google
Introducing Handwrite, a fun and easy new way to search Google from your smartphone or tablet.
To enable Handwrite, visit www.google.com on your smartphone or tablet, click 'Settings,' found at the bottom of the page, and then enable Handwrite. This feature is currently available in 27 languages.
Learn more at
g.co/handwrite
.
Here's how to try it out:
Step 1: Enable the feature
Turn the feature on or off in your search settings. Touch Settings at the bottom of the Google homepage or a search results page, or visit google.com/preferences.
Go to the Handwrite section, select Enable to turn on the feature, and then touch Save.
Step 2: Use it to search
Tap the Handwrite icon in the lower right corner of the screen on your mobile device.
Use your finger to start writing your search terms anywhere on the screen.
While you write, your handwritten text converts into typeface in the search box. If you need to delete a letter, tap the backspace icon . Press and hold the backspace icon to delete more than one letter at a time. Click X in the search box to start over again.
You'll see a list of predicted queries below the search box as you write. Tap one of them to search for that prediction, or click the arrow to the right to build your query and keep on writing.
Tap the search icon to search.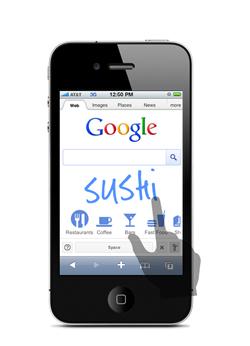 You can also select a past search term to perform that search again. Search history is enabled by default, and you can clear or disable your search history at any time.
See results as you write with Google Instant
. Google Instant automatically shows results for a popular search that begins with those letters as you write on a tablet. If you don't see the results you want, just keep writing and the results will dynamically update. To enable Google Instant, go to
Settings
>
Google Instant
and select
Use Google Instant
.
Learn more about Google Instant
Note: The Handwrite feature works best in the native Android browser on Android 2.3+ phones, Android 4.0+ tablets, and iOS 5+ phones and tablets. It's available when you visit Google.com in your browser, and not in other search boxes found on your device, like within apps.